The Crossett Area Chamber of Commerce is proud to announce the implementation of a new program intended to add more value to being a part of the ever-growing Chamber Membership Network!
With this program, each Chamber Member receives a Member Value Card.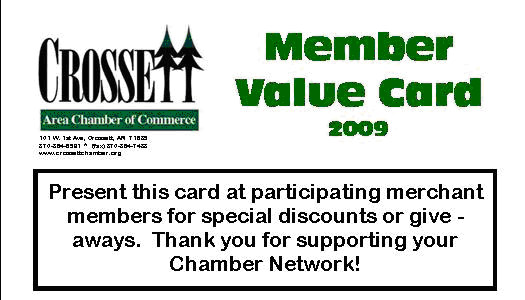 This card entitles the member to various specials and discounts at participating merchant stores.  This also gives merchants an opportunity to attract new business by offering something special to Chamber Members who shop within the Membership Network!
These offers may change from time to time and new merchant offers will be added along the way.  An updated offer list will be available on this website – so check the site often for all our Chamber news!
If you'd like more information about participating in this program or becoming a Chamber Member, please give us a call at 870-364-6591.
Happy Shopping!
| | | |
| --- | --- | --- |
| | Member Value Card Offers | |
| | | |
| Participant | Special Offer | Effective Date |
| | | |
| Advanced Eye Care Associates | 10% off all eyewear | 7/15/2009 |
| Ashley County Family Dentistry | 25% off take-home bleaching kit | 7/15/2009 |
| Ashley County Medical Center | 10% off Wellness Center Membership | 7/15/2009 |
| Belles and Beaus Boutique | 40% off one top with purchase of reular price jeans | 7/15/2009 |
| Carlynne's | 20% off regular price items - last Monday each month | 7/15/2009 |
| Clark Terrell, CPA | Free consultation and 10% off single transaction or product | 7/15/2009 |
| Cosby's Greenhouse | TBA | |
| Craig's Primatives | 15% of all purchases | 7/15/2009 |
| Edge Design | 10% off all purchases   | 7/15/2009 |
| Huddle House | 10% discount | 8/10/2009 |
| Ivan Smith Furniture | 10% off all regular price merchandise | 7/15/2009 |
| Kinard Jewelers | Fossil Fridays!  20% off all Fossil watches every Friday | 7/17/2009 |
| Lakewood Family Dental  | TBA | |
| Nowlin Printing | 10% off all regular price merchandise | 7/15/2009 |
| Pope's Auto Supply | 5% off all purchases | 7/15/2009 |
| Southern Accent/Wallpaper for Less | 10% off all purchases excluding special orders | 7/15/2009 |
| Total Image | 10% off all regular price merchandise | 7/15/2009 |